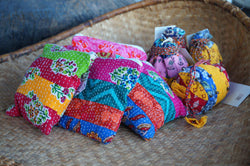 Zippy Pouches
Little pouches made by the same women who make the Prosperity Hens. Nothing is wasted in this village; these bags are made from scraps of left over fabric from making the Prosperity Hens!
The pouch is further embellished with a tiny hand-done running-stitch in the "Kantha-work" style.
Approx. 4" wide.
Useful as a holder for money, credit cards, coins or business cards.
Product Photography by: Pam Lott