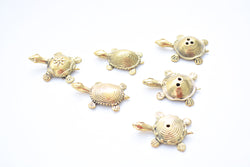 Brass Turtles
Each one of these little turtles is unique.
Artists in a village near Panchgani create the figurines in wax. The turtles are then cast in brass using the ancient 'lost-wax' technique --- a technique that is traced back to circa 2500 BC!
Each turtle varies slightly in size.
Approximate dimensions measure 2.5" x 2" x 1"
Also available as incense holders.
Sorry out of stock. No ETA.