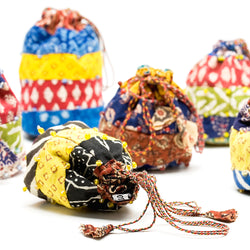 Gudhari Beaded Pouch
This little pouch is made by the same women who make the Prosperity Hens. Nothing is wasted in this village, so these little pouch drawstring bags are made from scraps of fabric left over from making the Prosperity Hens!
They are neatly made, with a contrasting inner lining in solid fabric that makes the pouch reversible.
The pouch is further embellished with tiny glass beads.
Approx. 4.5" high. Priced per pouch.
Photo Credit: Pam Lott